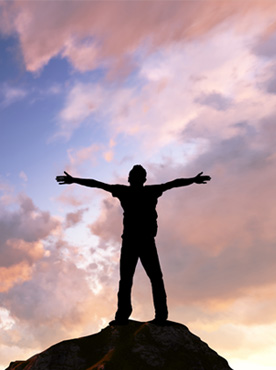 I had prepared myself for this day, I actually started to prepare myself for this since the very first day I began to work for this company. I was saving some money to venture in a journey where I knew there was no return and I knew it would arrive sooner than later: my last day at work. After all, I plan to start traveling, and since I started to work in an office I was also working on my plan for that goal as well.
What I didn't expect was the kind of day it would be, since it was actually one of the best days of my life and one that tought me an awesome lesson. When it finally came, the response from some of my co-workers was somehow unexpected: they showed me true friendship. I wouldn't imagine that working in an office for only a year and a half (and thinking about leaving soon) would tie a strong bond among us. Some of them managed to solve a misunderstanding that had occurred some weeks before, and finally, at the end of the day, the cherry on the cake was put when we went to a farewell party, even the ones who didn't really like these kind of places -like me- and others who had never gone before, went and stayed there until it was over. All in the same day.
This brought an strange feeling to my Vulcan heart, and how being yourself and being helpful to anyone no matter what, makes a whole difference. In the last couple of years, I've been learning to control my emotions, not to try to be some cold-blooded guy, but as an excercise to discover myself more as a human. And the result is I've been learning to be the type of person that doesn't really care about how the other people are, if they are grumpy, or are always happy, or demotivated, if they're arrogant or humble. I'm just myself to everyone and talk to all of them in the same way, and surprisingly, all of them showed a similar behavior when talking to me; it might seem that I've adapted to the personality of everyone, but the truth is I'm just the same guy, constantly learning to be humble and kind. No matter if something good or bad happens to me, I accept it as it is; I don't complain of people, I don't judge (or try not to) if something is fair or not, it's just life.
I won't deny it, there're people who are far so arrogant, like some bosses I had who loved to talk down to you, and there will obviously be people who you will get along more than others, and at the end, the ones who stay are the ones really worth it. It's like a selection process that happens just naturally if you always show your true self.
And because of this, my last day of work showed me the true self of those friends as well, pals I know I can count on and they on me. It was a nice reward for all this self-training I've been taking to understand what it is to be human, the awesome lesson I learned.
Always be yourself, everyone else is already taken.